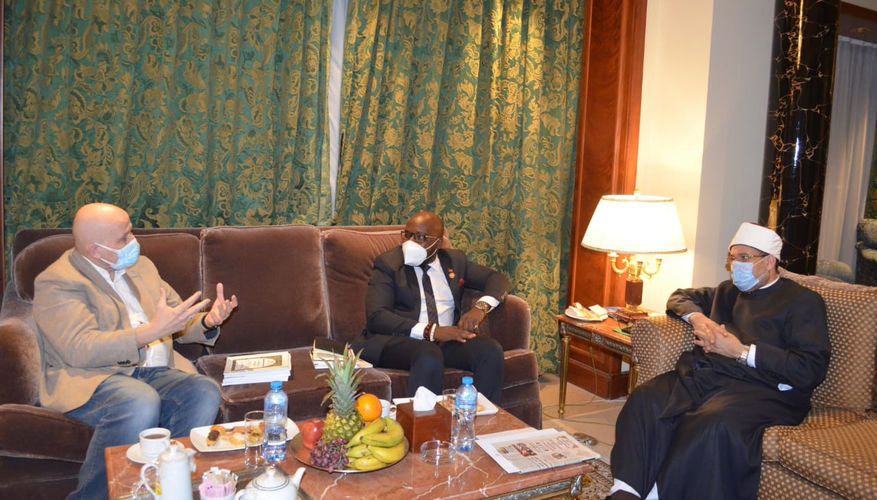 Photo from Cairo in March 2021: Dr. Mokhtar Gomaa (to the right) and Dr. Timothy Pagonachi Mtambo, the Minister of Civic Education and National Unity of Malawi (in the middle)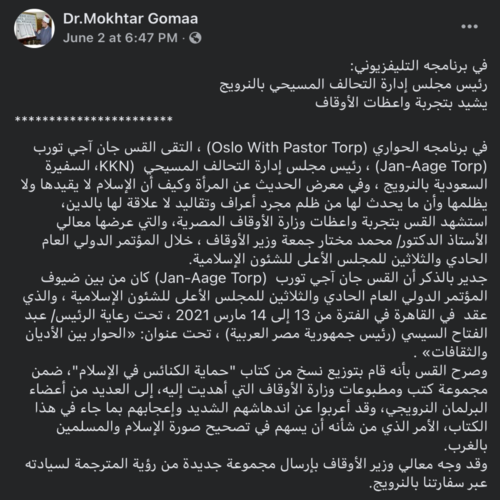 Dr. Gomaa´s message in Arabic
In a public statement, Egypt´s Minister of Islamic Affairs (=Awqaf), His Excellency Dr. Mohamed Mukhtar Gomaa, expresses his appreciation of Pastor Jan-Aage Torp´s efforts to give an accurate account in Norway and Europe of the view of women in Islam:
- On a TV show with the Saudi Ambassador to Norway, Pastor Torp talked about women and how Islam does not restrict her. It does not oppress her, and the injustice that happens to her is merely customs and traditions that have no relation to religion, reports Dr. Gomaa. - It is worth noting that Rev. Jan-Aage Torp cited his personal observations during the 31st General Conference of the Supreme Council for Islamic Affairs in Cairo on 13-14 March 2021 on the theme «Interreligious and Cultural Dialogue». He was a guest under the auspices of President Abdel Fattah El-Sisi (President of the Arab Republic of Egypt).
Dr. Gomaa also says: - The pastor stated that he distributed copies of the book «Protecting Churches in Islam», among the collection of books and prints of the Ministry of Endowments which was gifted to him, to several members of the Norwegian Parliament, and expressed their profound surprise and admiration for what is taught In this book, which would contribute to correcting the image of Islam and Muslims in the West.