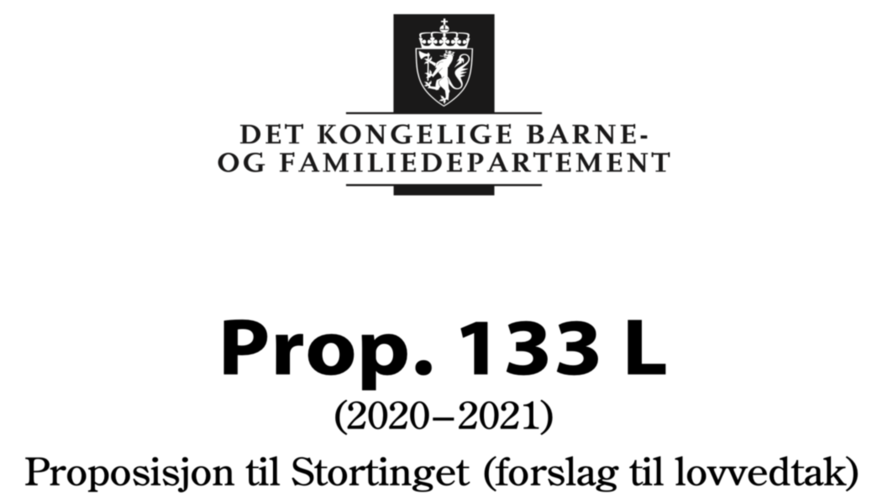 The Government's bill to Parliament («Stortinget») on a new Child Protection «Barnevernet» Act (Prop. 133 L) will be discussed in the Family and Culture Committee, which is holding a video hearing on Tuesday, April 27th at 12:15-14:18. KKN's Chairman Jan-Aage Torp participates with an address.
On Thursday night, KKN submitted a two-page note to the family committee, which is attached.
In his remark to the committee on Wednesday, Torp wrote on behalf of KKN:
KKN has been involved in Norwegian child protection since 2015, and works in Norway with children and parents (families), lawyers, psychologists, social workers, priests, pastors, imams and diplomats. KKN collaborates with European environments that deliver assessments to the ECtHR, the Council of Europe and others.

KKN is concerned about Prop. 133 L's clear imbalances and deficiencies, and will in the memorandum address e.g. these matters:

Prop. 133 L does not accept the criticism of the Child Protection System contained in the verdicts given since 2019. The verdicts from 2015-2018 are substantially different from 2019. This weakens the credibility of Prop. 133 L, and means that the proposition is already in conflict with the ECHR which takes precedence over Norwegian law.

Prop. 133 L claims to want to promote «a strengthened children's perspective», but is based on selective Norwegian environments that are funded by BUFdir (=The Norwegian Directorate for Children, Youth and Family Affairs), and does not take into account assessments from the many children who are not asked in the basic material.

Prop. 133 L does not take the parental perspective seriously, which could invalidate the proposition when it is measured against the ECHR and the ECtHR's case law.

Prop. 133 L does not clearly address the legal responsibility that workers in the Child Protection System have for their decisions and actions. Lawyer Elden's report to Samnanger municipality (2020) points to some factors. Lawyers, doctors, psychologists, etc. must be held accountable for their actions, but powerful workers in the Child Protection System continue without consequences - even after serious mistakes.

Prop. 133 L does not address the fact that the Child Protection System's incompetence is not solved by a master's degree study under the same teaching staff that has shaped the Norwegian Child Protection System over the past 30+ years. It just means more of the same incompetence. A fundamental change is required in which professional environments and guidelines actually train decision-makers of thhe Child Protection System.

Prop. 133 L only deals with the legal security of children and parents in terms of slogans. For example. «Legal consent» is something sacred in our society, but in case after case, the Child Protection System's employees disregard children and parents who do not want the Child Protection System to investigate all their personal matters. KKN repeatedly experiences that the Child Protection System's crisis maximization is unwarranted, and the cases are closed - after children and parents have had their everyday lives ruined.