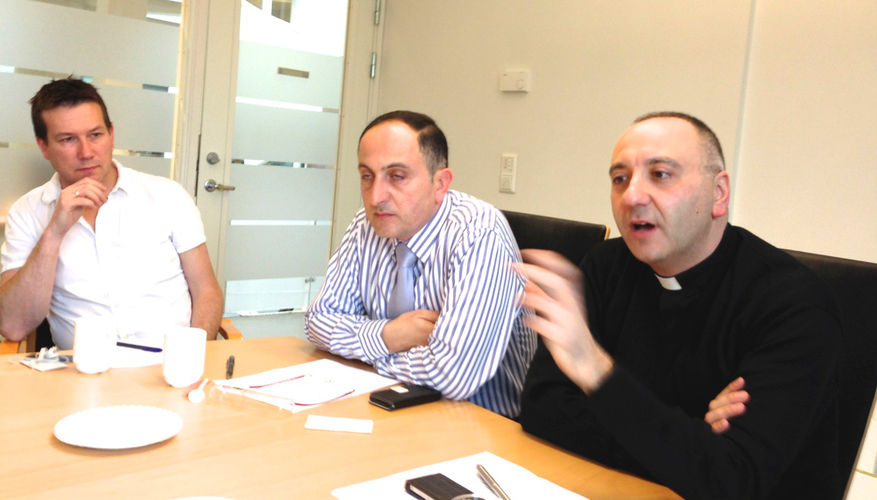 Knut Refsdal, Elias El-Halabi and Father Michel Jalakh
Dr. Elias El-Halabi and Father Michel Jalakh of Middle East Christian Council ask global Christians for help: - Christians in the Middle East are experiencing «religious cleansing» by the muslims, they told a meeting in Oslo recently. The Middle East Forum in Oslo, under the auspices of the Christian Council of Norway, was led by Director Knut Refsdal, and assembled only eight leaders of the Chriatian Church in Norway, among them EAL´s leader, Jan-Aage Torp.
Dr. Elias El-Halabi, who is the Director of ICNDR (Inter-Church Network for Development & Relief), and a Greek-Orthodox from Lebanon; and Father Michel Jalakh, who is the General Secretary of Middle East Christian Council, and a Marionite Christian from Lebanon, gave challenging insights into the situation for Christians in the Middle East
- Persecution no longer adequately describes the treatment of Christians in a growing number of Muslim areas, they stated. «Religious cleansing», a type of cultural genocide, which is a crime against humanity, is the more accurate description! This is now occurring in Iraq, Syria, in the Palestinian areas of Israel, Egypt, Iran and other places.
They said that the overwhelming majority of Iraq's Christians, formerly numbering 1.4 million, are immigrants in the West, refugees in the region, or internally displaced within Iraqi Kurdistan.
The fate of struggling Christians in Muslim-majority countries in the Islamic heartland has shifted from persecution to an existential struggle.

When asked by Norwegian Church leaders if the solution would be to offer asylum in the West for the persecuted Christians of the Middle East, they said emphatically NO: - We must remain in our historic lands, but we need to have the tangible, vocal support of the global Church!