Some of the speakers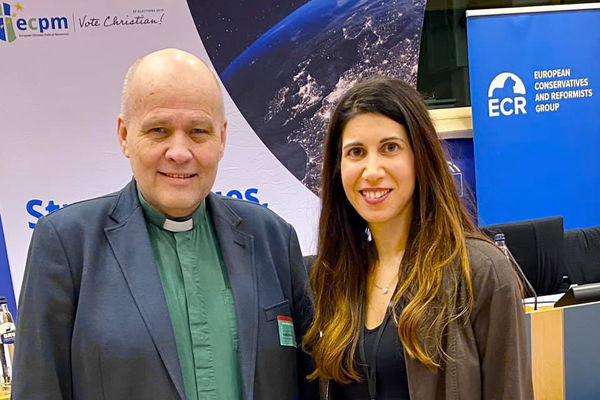 With Jenny Aharon, one of the speakers
A Symposium was held yesterday in the European Parliament in Brussels on «Celebrating EU-Israel Relations and their Future», hosted by European Coalition for Israel (ECI) and European Christian Political Movement (ECPM).
KKN spoke
KKN was recognized in the Israel Symposium for our support of European Christian Political Movement (ECPM). ECPM's Director Leo van Doesburg invited KKN Chairman Jan-Aage Torp to speak.
Jan-Aage thanked ECPM for their open-ended approach. KKN is putting efforts into influencing the Holy See and Russia to move their embassies to Jerusalem.
«The future of Israel»
The second section was on «The future of Israel – EU relations and from Horizon 2020 to Horizon Europe», snd was sponsored by KKN.
The speakers were Branislaw Škripek (MEP Slovakia); Nili Shalev (Director General of ISERD the Israel-EU R&D Directorate from the Israel Innovation Authority); Andrea Carignani di Novoli (EC DG Research & Innovation - European Neighbourhood, Africa and the Gulf); Leo Van Doesburg (ECPM); Bas Belder (MEP Netherlands); Yehuda Glick (Member of Knesset); Josh Reinstein (Director Israel Allies Foundation and the Knesset Christian Allies Caucus); Shai Newman (Co-Founder & Chief Technology Officer of Compedia, a leading Israeli company in the field of innovation).