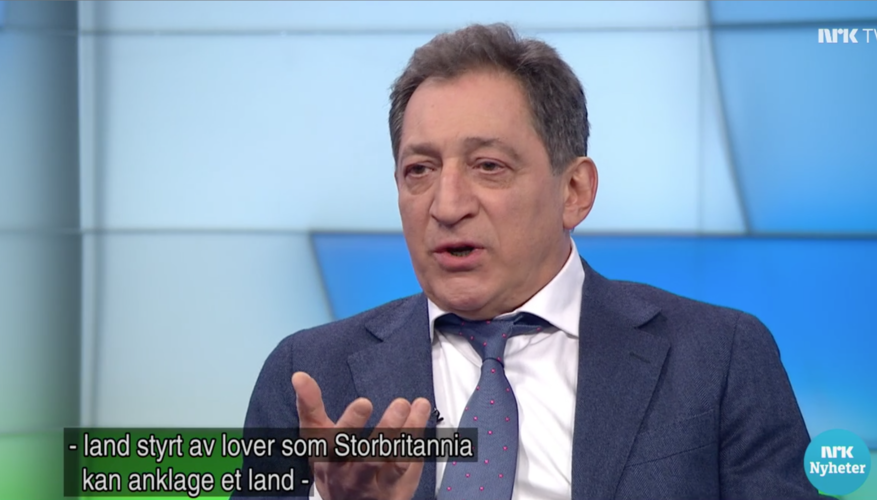 Screen photo from Dagsrevyen, Norway's largest news program, on March 15th, 2018
On March 15th we watched Russia´s Ambassador to Norway, Mr. Teymuraz Otarovich Ramishvili, on Dagsrevyen, Norway´s largest news program. He conducted himself with admirable composure toward the Western world, including Norway, when faced with numerous accusations against the Russians in the USA and Great Britain. 23 Russian diplomats were expelled from Great Britain on that very day. He underscored that Norway and the Western world as well as Russia share the same values, and warned against seeking back to «the Cold War».
Yesterday Ramishvili was interviewed by Norway´s premiere newspaper, Aftenposten, after Norway decided to expel an unnamed Russian diplomat as an act of solidarity with Great Britain. The ambassador characterized yesterday the relationship Norway-Russia as «poisoned», and called for us to look after the relationship.
USA
In the USA there are differing opinions about the role of Russia during the Presidential elections, and the investigations are going on full fledge about WHETHER and/or THAT Russia interfered, and in that case if the interference was aimed at one or both sides of the elections.
Great Britain
In Great Britain there are ongoing investigations about the matters surrounding the assassination in Salisbury of the former spy Sergey Skripal and his daughter Julia. The Russians accuse the Brits of «a lack of cooperation». The British Foreign Minister Boris Johnson maintains that the assassination against the Russian defector was done with nerve gas that belongs to Russia, but Christian Coalition World (KKN) maintains that there is reason to investigate the assertions that the nerve gas comes from old deposits in the Soviet Union that are being used by «revengeful persons» and non-governmental groups in the former Soviet republics, totally outside the control of President Vladimir Putin.
NATO
NATO´s Director General, the Norwegian Jens Stoltenberg, immediately supported the British sanctions. He said as early as March 15th that the Salisbury assassinations must be understood in light of a «pattern of Russian behavior». That means not based on evidence, but on circumstancial considerations. He referred to other factors than Salisbury in his support of the British expulsions.
Ambassador Teymuraz Ramishvili and Pastor Jan-Aage Torp
KKN believes
In this situation we believe that it is right and wise to let the diplomatic issues be resolved by the implicated states. That Norway should meddle with this, is highly improper.
We should not contribute to a resurgence of «the Cold War». It ended 25 years ago, and was based on ideological differences between the Communist block and the Western world. Today such ideological barriers do not exist.
Russia is Norway´s neighbor. We share a longstanding history, in good and bad times. When the situation has improved so much during the past years, it seems wrong that Norway choses, or is being pressured by NATO, to involve ourselves in favor of states that are more than capable of taking an independent stance.
KKN will continue
KKN will continue to develop our good relationship with Russia. Even yesterday we accepted an invitation from the Russian Ambassador to participate in an event at the Russian Embassy in Oslo that is intended to strengthen the relationship between Norway and Russia.
We appeal to our competent Foreign Minister, Mrs. Ine Marie Eriksen Søreide, to have a respectful approach to Russia. We need each other. A good relationship to Russia will not be at the expense of a continued good relationship to our allies, USA and Great Britain, and by no means to NATO. We believe that it is fully possible to maintain simultaneously good relationships with President Trump´s USA, Prime Minister May´s Great Britain, and President Putin´s Russia.