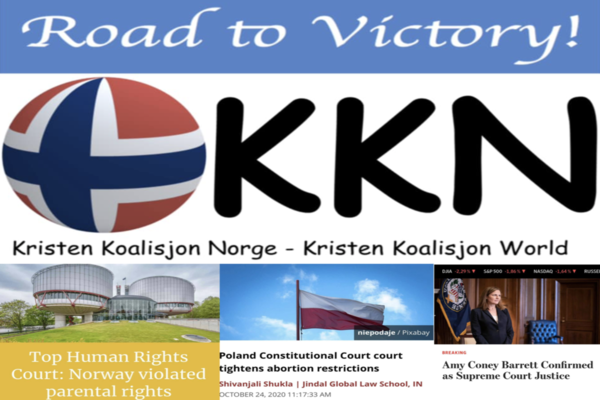 The Rule of Law is getting back its rightful place in the Western world.
The populist policies of left-wing media, academia, and politicians are being driven back.
Now the foundational legal principles of the sanctity of human life, marriage between one man and one woman, and the traditional family are regaining their rightful and historic place.
Kristen Koalisjon Norge (KKN) believes this is a work of God who is safeguarding the dignity and rights of human life and family life.
Based on the European Convention of Human Rights, the European Court of Human Rights (ECtHR) in Strasbourg is wripping to pieces Norway's atrocious system of ruining families through Barnevernet.
The Constitutional Court of Poland has barred abortion due to fetal defects, holding that termination of pregnancy has no constitutional justification and violates the constitutionally guaranteed right to life.
And last evening (US time), US President Donald Trump's third conservative nominee in four years for justice of the Supreme Court, Amy Coney Barrett, has been confirmed by the Senate. Now there is a solic majority for fundamental change.
KKN thanks the three greatest legal organizations in Europe, 1) Instytut na rzecz Kultury Prawnej Ordo Iuris, 2) Alliance Defending Freedom, and 3) European Centre for Law and Justice, for their principles, longevity, quality, and professionalism!
We are truly on the Road to Victory!