Ramadan, Ulrichsen and Maw Maw speaking (photo credits: Oslokirken)
The Ambassador of the Arab Republic of Egypt to Norway and iceland, H.E. Amr Ramadan, is finishing his four year tenure on December 5th.
An official farewell reception was held on Wednesday in the Egyptian residence in Oslo, attended by numerous ambassadors and members of the diplomatic corp, as well as leaders of the Norwegian Ministry of Foreign Affairs (MFA).
Pastor Jan-Aage Torp and his wife Aina and daughter Selma (2 years old) were among the guests.
The Torp´s had many good chats with ambassasdors of several states, including Egypt, Cuba, Ghana, Greece, Iraq, Iran, Kazakhstan, the Palestinian Authority, Romania, South Sudan, Tunisia, and Venezuela.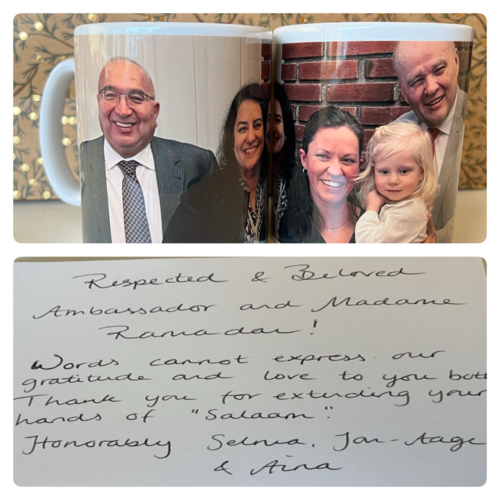 Two coffee mugs (photo credits: Oslokirken)
Speeches in honor of Amr & Heba Ramadan were held by Ms. Hanne Ulrichsen who directs the Middle East Section of the MFA, and H.E. Maw Maw, the Ambassador of Myanmar, who is the dean of all ambassadors in Oslo.
Last Friday, the Torp family was also invited by the Ambassador of Tunisia, H.E. Amel Ben Younes, to her residence for a private farewell dinner for the Ramadan's. They were the only non-ambassadors together with five ambassadors.
Jan-Aage Torp gave a speech from his heart of deep appreciation for Ambassador Amr & Madame Heba who they have had several lunches, dinners and memories with, together with their beautiful kids Ali (20) and Nourrine (15). The Torp family gave them two coffee mugs with a photo together of the Ramadan´s and the Torp´s. For many cups of coffee on the Nile!