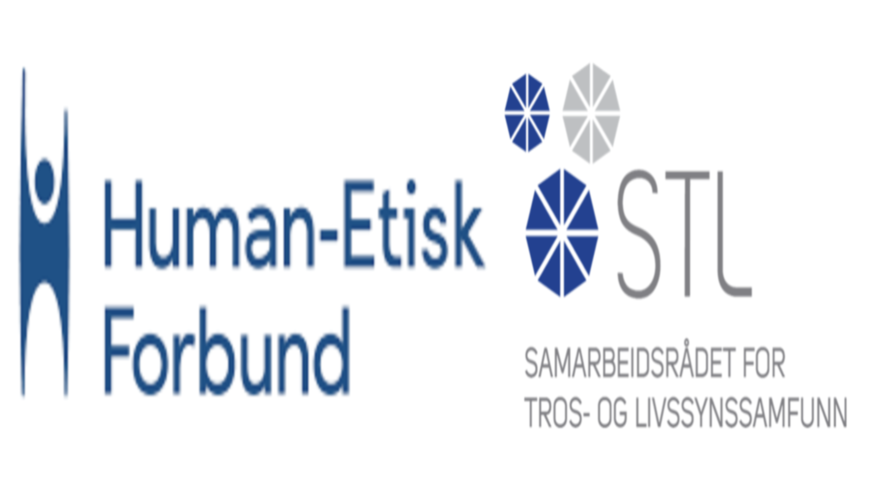 Ever since the Norwegian Humanist Association (HEF - Human-Etisk Forbund) was founded in 1956, it has been obsessed with fighting against religion as such. Please read the documentation below.
Kristen Koalisjon Norge (KKN) was established in 1993, and is gaining momentum, especially because we work in a principled and positive way for the right of every religion to exist and thrive in Norway. We must never again allow that the ban of Jews, Jesuits and Monastic orders of the 1814 Constitution is re-entered into our Constitution.
Hence, we are concerned that HEF is the most prominent member institution in the Council for Religious and Life Stance Communities in Norway (STL), established in 1996, which is an umbrella organization bringing together religious and life stance communities. With subtle provisions and regulations from anti-religious elements of the Norwegian governmental bureaucracy, STL has become an effective tool in HEF´s hands. Even the STL leaders and representatives are loyally serving the interests of HEF - simply because they have monetary support.
In the official description on the STL webpage, the following description is made of what makes STL unique. Note the first point which STL even brags about:
Within the European context, the Council has a unique profile for three reasons:

The first one is that the Council is a cooperation among both religious and secular instances (the Norwegian Humanist Association is a particularly active member).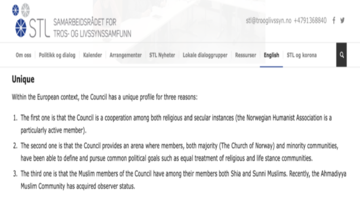 Screenshot from the webpage of STL on June 1st, 2021
Atheists are not aggressive
There are many active lifestance communities in Norway, including atheists. KKN applauds them for their good and harmonious work. Most atheists are not aggressive, but genuinely seeking truth.
HEF is aggressive against the State Church
This form (in several versions) have been distriibuted to members of the State Church for 50+ years
However, HEF has an aggressive, anti-religious agenda.
For 50+ years, HEF has presented ongoing as well as highlighted campaigns against the State Church (the Church of Norway). The campaigns (see the screenshot of one of their forms) have relentlessly been promoted in newspapers, in schools, outside church buildings etc.
Not only that - HEF has unleashed a string of attacks against the State Church in every conceivable manner: Theologically, practically, and economically. The attacks have gone way beyond the healthy debate between friendly associations, but have targeted the very fabric of the State Church.
I have included links below from 1978, 2007, 2016 and 2019, but I could easily expand this to hundreds of relevant links.
HEF fights against other Christians as well
Not only has HEF fought against the State Church, but also against other Christian denominations, including Pentecostalism which I proudly am a part of.
Even during the past 10 years, HEF is launching repeated attacks against me and my faith. The largest Evangelical Christian TV channel in Europe, which is TV Vision Norway, also receives ongoing attacks from HEF for their practices and teachings.
The Roman Catholic Church is no exception. Although, strangely, the Secretary General of STL is a Catholic, and seems to have no problems with the attacks against religions.
HEF fights against islam and Judaism
Screenshot from July 1st, 2019 of Ambassador Carl Schiøtz Wibye
HEF is waging a cultural war against Islam.
On July 1st, 2019, former Norwegian Ambassador to the Kingdom of Saudi Arabia, H.E. Carl Schiøtz Wibye - himself a proclaimed atheist - announced on Facebook that he had left HEF because HEF was only criticizing Christianity. He said emphatically that HEF must start attacking Islam as well (see the screenshot of his posting).
Clearly, HEF followed his lead, because in November 2019 HEF hosted a female-led meeting with scathing attacks against Islam.
Repeatedly, HEF demands the criminalization of circumcision of boys and girls within both Islam and Judaism, hence attacking the very existence of especially the Jews.
HEF has an ongoing campaign called «Don´t allow yourself to be deceived!» (Ikke la deg lure!) which is presented in schools and through the media, targetting anyone who believes in a god or in the supernatural (see the screenshot of a poster).
Screenshot of HEF campaign
The list goes on and on.
The Way forward
How can the Council for Religious and Life Stance Communities in Norway (STL) live with this?
Clearly, STL is a vehicle of anti-religious forces in the government that supply them with heavy funding, and thus making peaceloving Muslims, Jews, Christians, Buddhists, Hindus and others compliant - perhaps to get money from the government?
Sadly, STL is also being used by the present Department of Children and Family, led by the Chairman of the Christian Democratic Party (KrF) which is facing parliamentary extinction, as an arena to unapologetically promote the flawed Norwegian Child Protection System («barnevernet») that is being convicted repeatedly by the European Court of Human Rights in Strasbourg as well as by the Norwegian Supreme Court for the grave breaches of human rights, making Norway the worst human rights nation among the 47 member states of the Council of Europe!
It bothers me that STL represents the very religions in Norway which they subtly are attacking.
Undoubtedly, the unapologetic attacks against religions will force its way into the religions themselves to force changes. Is that the de facto goal of STL?
The way forward for the Council for Religious and Life Stance Communities in Norway (STL) is to become what it is meant to be: A Council where religious leaders can discuss common concerns - without the allure of money, and without becoming subservient to some extreme, ideologically-motivated governmental bureaucrats.
KKN
KKN is increasingly becoming an arena for faith communities. We are not competing with STL, but we only ask that they do their real job: Be a Council!