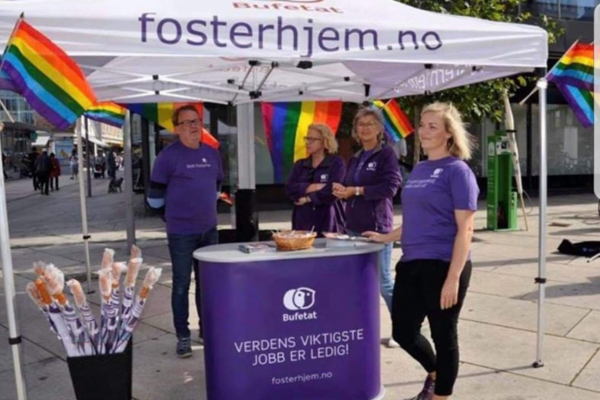 From a stand at the Pride festival in Fredrikstad
When international protesters, politicians and media claim that the Norwegian government specifically is targeting the «Gay» community (LGBTIQ=lesbian, gay, bisexual, transgender/transsexual, intersex and queer/questioning) as replacement for biological parents though the foster home industry which is paid and run by the Norwegian government, the official response of Prime Minister Erna Solberg (Høyre - Conservative Party) as well as her Minister of Children & Family Kjell Ingolf Ropstad (KrF - Christian Democratic Party) would be that «this is extreme, reactionary misinformation and propaganda from anti-Barnevernet groups abroad».
However, photos speak louder than words....
Please take a look at the photo from the Pride Festival in Fredrikstad. The stand for «fosterhjem.no» is run by BUFetat, which is the official umbrella organization for Barnevernet.
The slogan from BUFetat/fosterhjem.no states:
«The world´s most important job is vacant!»
The truth is simply that extreme power brokers from the anti-family movement have infiltrated the government and its coalition parties so totally that LGBTIQ is the most overriding policy of the Norwegian government.
Barnevernet is merely a tool to rip to pieces the foundations of the traditional, Christian family unit consisting of mom & dad & kids.
Every day in Norway, which is a nation of FIVE million inhabitants, FIVE children are taken from their homes by Barnevernet - very often assisted by uniformed Police that knock on the family doors to «take over the care of your kids». (Barnevernet literally means CHILD CARE or CHILD DEFENSE.)
That means that EIGHT PERCENT of Norwegian children, both from ethnic Norwegian and ethnic non-Norwegian families, are taken from their homes every day!
The astounding numbers include only one percent that have to do with spanking (which is prohibited by law in Norway), neglect, alcoholism, drug addiction, parents in prison etc.
Seven percent are from normal families. Among the reasons for Barnevernet´s interventions are frequent relocation, lack of finances, poor psychological parent/child attachment etc.
The case handlers in Barnevernet are most often very young (25 and under), having completed a three year educational program where they have been indoctrinated by extreme pro-Barnevernet ideologues. They make the decision - often on their own - to take a child from the parents.
Foster parents in Norway are paid very, very well by BUFetat. It is quite common to receive at least 50.000 euros annually per child.
The foster home industry in Norway, promoted by the government, has close financial ties to the leaders of Erna Solberg´s government.
Opposition
A group of 260 high ranking professionals within psychology and law in Norway signed in June 2015 a Notice of Concern to the government of Erna Solberg about the fundamentally flawed practices of Barnevernet, but they are at best being ignored. Attn: Einar. C. Salvesen.
International opposition has a powerful effect on the Norwegian government, which is concerned by «the negative image that Norway has abroad».
KKN is now even referred to as an «Enemy of the State».
The truth is the opposite: Kristen Koalisjon Norge (KKN) loves Norway!

Kristen Koalisjon Norge (KKN) has declared cultural and spiritual war against the flawed foundations of the present government of Norway. We have asked Prime Minister Erna Solberg to resign along with her government, including KrF, the Christian Democratic Party.