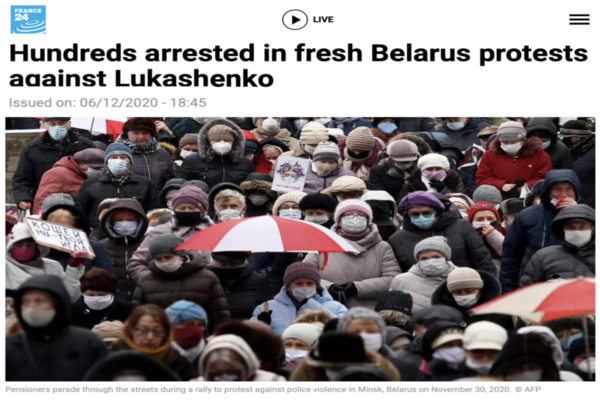 It is quite interesting to note how quickly the mainstream world condemns election fraud in nations such as Belarus, and strongly support the demonstrators, who at times do not comply with the law in their zeal. The support is valid. Both European and American mainstream should continue this support.
On December 6th, France24 reported:
«More than 300 people were detained in the Belarusian capital on Sunday, where crowds of people took to the streets for the 18th consecutive weekend, demanding the ouster of the country's authoritarian leader who won a sixth term in office in an election widely seen as rigged.»
Even the United Nations were quick to issue a justified condemnation:
«On Friday, the U.N. High Commissioner for Human Rights Michelle Bachelet said in a statement that the situation with human rights in Belarus is getting worse. Bachelet pointed to reports of mass arrests, the beating of detainees and the use of force in dispersing peaceful demonstrations.»
However, when 100 million Americans believe that Election Fraud has led to a victory for Joe Biden, leading to huge demonstrations, the mainstream media and leaders choose to condemn the demonstrators-
Hypocritical?