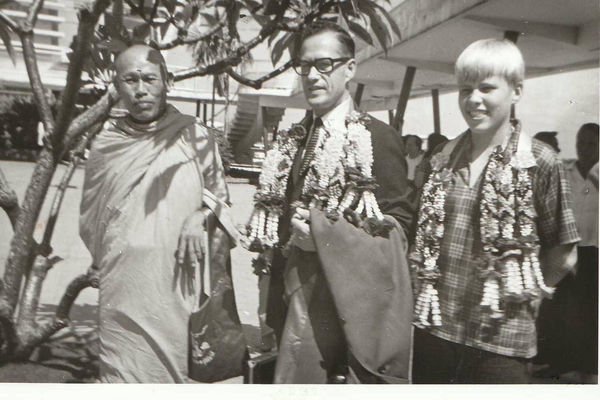 My dad & I in 1970 with a Buddhist monk friend in Bangkok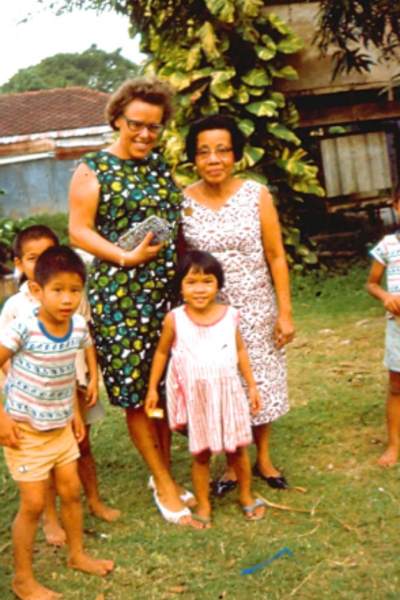 Mom with doctor Pierra Vejjaboon in Bangkok in 1965
I am born in the Shinto capital of the world - Kyoto, Japan. My missionary parents Anne & Aage Torp taught me to respect every person and their beliefs.
When I was five, we moved to Buddhist Thailand. I watched as my parents worked with renown Buddhist monks, philantropists, politicians - and even the Royal Family. I will especially remember my parents´ closest Thai friend, MD Pierra Vejjaboon, the first female medical doctor in the ancient Kingdom. Together they «plundered» prostitution centers and gave young women a new future.
However, I learned from my parents that «respect» does not necessarily imply agreement. My dad had a keen theological mind. He would even warn me against Christian syncretism. I have kept that as an integral part of my approach. I will never enter into «dialogue» that questions the Triune Godhead, the Person and Atoning Work of Jesus Christ, the Uniqueness of Christ as the only Way, Truth and Life, nor the authority of the 66 Books of the Bible.
I am an evangelical. I am also a pentecostal. I am grateful for both.
At an early stage I learned that religious faith that belongs within the definitions of classic Christianity are in a special category. They are expressed by the Nicene Creed (or Nikonum) which was written in 325 AD and the Apostles Creed (or Apostolicum) which was written around 390 AD. The Roman Catholic Church, the various Orthodox, Lutheran and Presbyterian Churches, the Baptists, the Methodists, most Pentecostals (except «Oneness») all belong within classic Christianity.
There are various religious faith movements that do not belong within classic Christianity, e.g. the Mormons and the Unification Church, and naturally historic world religions such as Hindusm, Islam, Buddhism etc.
But I respect their quest for God, their moral codes, their sincere values, and their desire to serve mankind with all their heart.
In most cases, I will gladly talk with and even cooperate with all people of faith.
I have the utmost respect for the Chairman of UPF, Dr Thomas Walsh and his precious wife Lynn.
This week I participated at the Universal Peace Federation´s International Leadership Conference in Seoul, South Korea. It was a non-religious gathering of 220 top political leaders and religious leaders from some 60 nations of the world. The discussions were at a high level. I was honored to be allowed to speak a couple of times about our European battle for family values. If I am invited again, I would be wise to go.
In sinister Norwegian anti-faith media, I am attacked viciously this week because I participated at UPF´s conference. Apparently, I am acting shamefully by putting my photos on Facebook together with UPF leaders and top world leaders. Let me say again: I would do it again :-) For your pleasure, I am posting a couple of photos here as well.
Why do I boldly and gladly talk and cooperate with them? Because I have solid foundations. So does Kristen Koalisjon Norge (KKN).