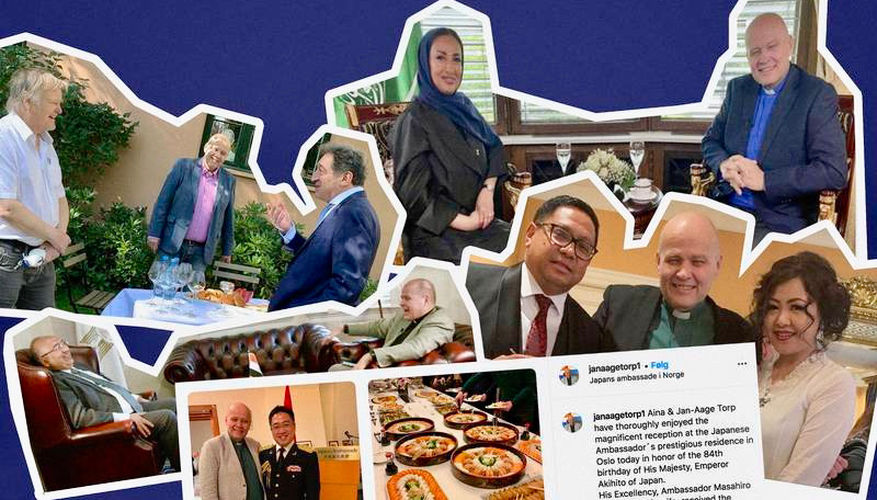 Click on the photo to see the article on Vårt Land´s web page
In today´s version of the Norwegian newspaper Vårt Land, which until five-six years ago was a source of insight and knowledge about the state of Christianity and religion in Norway, a big story over five pages is presented about «Torp´s Diplomat-Network».
In June, the newspaper presented 14 pages about me and my alliances in Europe, even expressing in an editorial on June 14th a strong warning against me. At least it is good that Vårt Land has revealed their motives.
In those 14 pages, the newspaper did not even try to find a single Norwegian leader who would speak in favor of me and my work! Afterwards, psychology specialist Einar Columbus Salvesen and Pentecostal Pastor Karl-Axel Mentzoni requested to write Op-Ed´s in the newspaper in support of me. (Please click on the English versions below.)
Erik Solheim, who served in the Norwegian government from 2005 to 2012 as Minister of International Development and Minister of the Environment, and as Under-Secretary-General of the United Nations and Executive Director of the United Nations Environment Programme from 2016 to 2018, contacted Vårt Land to request an interview about my work. According to a message to me this morning from Mr. Solheim, he has been interviewed, but as yet Vårt Land has not quoted him in any way or fashion.
The paper version today is quite ok, while the web version maximizes what the newspaper has chosen to major in: Creating rumors, suspicions, conflict and division. Sad, because the founding fathers of Vårt Land in 1945, after the torture of World War II, created a newspaper that had the express purpose of «building bridges».
Touched
I am touched by the beautiful words that are spoken about me in today´s newspaper by the great ambassadors of Egypt, Indonesia, and Kazakhstan. Thank you, Your Excellencies!
Saddened
Of course, I am saddened that the honorable ambassador of a certain nation in North Africa has been used to attack me on the cover page of the paper newspaper, and this has been maximized in their web version this morning.
But when I learned on Wednesday afternoon about her criticism, I immediately contacted her and tried to correct what she resented which had happened more than two years ago. Sadly I had never heard from her nor her Embassy about any objections. Typically, her criticism is based on what Vårt Land suddenly told her.
(I have learned from several ambassadors that the newspaper has tried the same with them, but thankfully to no avail. To me, this methodology is a breach of the Media Code of Ethics in Norway, and ought to lead to a reprimand from the National Press Complaints Commission.)
This does not diminish the reality that I deeply respect her great nation and her role as an excellent representative of her nation.
Peace and Understanding
My role in life is increasingly to bring peace and understanding. I thrive in this. Most of it happens «under the hood» - in confidentiality. But on a few occasions, it becomes public knowledge.
I have surely made some mistakes in my endeavors to be a bridge-builder, but the ambassadors in Oslo have all been so gracious to me. I have learned, I am learning, and I will continue to learn. Thank you for guiding me - and for being friendly and welcoming!