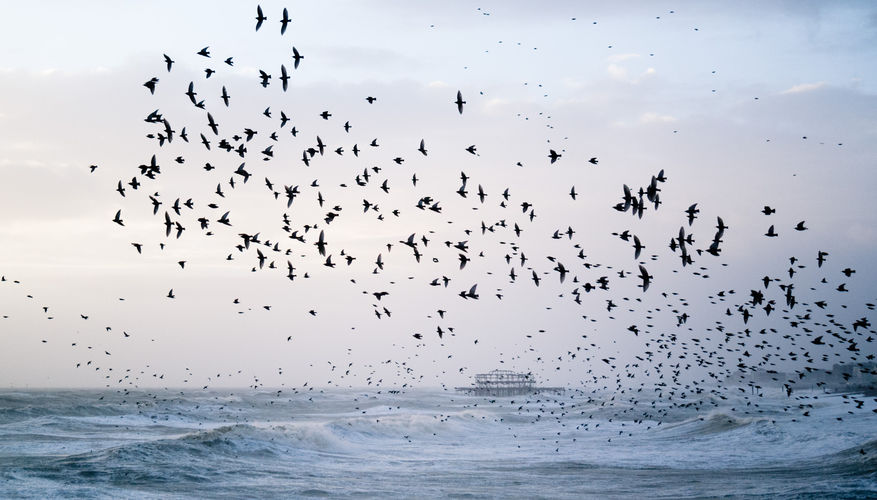 The formation of bird masses, «murmuration»
One of the big misunderstandings of Christians worldwide is the notion that we have to be many to win the world for Christ. Holy Scripture shows without any doubt that most of the time the opposite is the case.
God sent His Son to save every human being. Our strategies and work should reflect that. «World evangelization» and «the Creation Mandate» are not empty phrases, but must be taken seriously by every church and disciple of Christ.
We love to start with many. We want to see many from Day 1. We long to see the beauty of many individuals and groups of Christians booming and beeming in diversity and mulitiplicity, like the birds that «murmurate». But even the birds start with two. (Murmuration refers to the phenomenon that results when hundreds, sometimes thousands, of starlings fly in swooping, intricately coordinated patterns through the sky.)
The fundamantal strategies must be in accordance with Biblical standards and the God-given orderliness that is ingrained in God´s Creation, humans and animals..
Consider this:
Gideon had to reduce his army to just 300 men (Judges 7).
Jesus chose twelve, not thousands, and among the twelve were a core of three.
Jesus said in Matthew 18:18-20:
«Truly, I say to you, whatever you bind on earth shall be bound in heaven, and whatever you loose on earth shall be loosed in heaven. Again I say to you, if two of you agree on earth about anything they ask, it will be done for them by my Father in heaven. For where two or three are gathered in my name, there am I among them.»
Abraham interceded for Sodom and Gomorra, and dialogued with God. His last inquiry to the Lord was (Genesis 18:32):
«Oh let not the Lord be angry, and I will speak again but this once. Suppose ten are found there.»
«For the sake of ten I will not destroy it.»
Our prayers are powerful, but especially when they are in agreement. That´s why the unified prayers of two or three are most effective.
I remember a prayer mission I led to Brussels in 2005. The Lord gave me specific instructions. Several of my friends wanted to join, but I reduced the number to just four, including myself. That one day prayer mission has led to breakthroughs that cannot be spoken about publicly. It all boils down to obedience and unity in prayer.
«World evangelization» and «the Creation Mandate» must be fulfilled in our lifetime. God will spare our cities and nations if there are ten righteous, and He will even rebuild the broken bridges, gates and walls. He answers the unified prayers of two. Let our practical work reflect that.