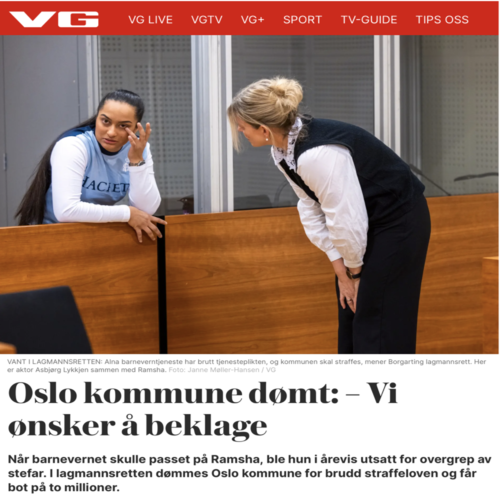 Screen Photo of VG Nett
VG reports today that Oslo Municipality has been convicted in the Borgarting Court of Appeal for violating the Penal Code and was fined two million kroner.
The case concerns Ramsha, who for years was abused by her stepfather, while the Child Welfare Service (Barnevernet) was present to look after her,
The Borgarting Court of Appeal believes that the breach of duty has contributed to Ramsha being «subjected to criminal, sexual abuse over a longer period of time». While Ramsha (6) was raped by her stepfather, the child welfare supervisor sat in the living room and read weekly magazines. Later, when Ramsha was a teenager, she was driven by the child welfare institution to the abuser - without supervision. reports VG.
Previously, Oslo Municipality did not want to apologize for this. On Monday, Alna District apologizes for the first time in an email to VG:
- We want to apologize for the failure of Oslo Municipality. Oslo Municipality sees that the case should have been handled differently, writes Alna City Director Ellen Liljedahl.
KKN has previously reported about another criminal case against the leader of Alna Child Welfare which ordered a case officer to lie in court so it would affect the parents. This case comes up in Oslo City Court on January 6th-7th.