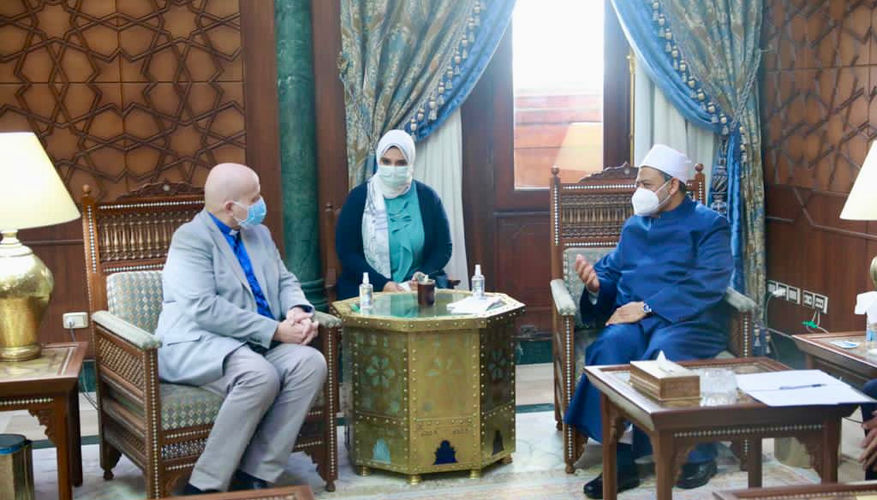 With the Grand Imam of Cairo and his translator at the al-Azhar Mosque (official photo from the Egyptian Foreign Ministry)
The Grand Imam (Photo Credits: Jan-Aage Torp)
The news has slowly emerged in the public spheres of Norway that I was an official guest at the Islamic Conference in Cairo on March 12th-17th, 2021.
The absolute highlight of my visit was my personal meeting with the «Pope» of Sunni Islam at the al-Azhar Mosque: The Grand Imam of Cairo, Dr. Ahmed El-Tayeb, also known as the Grand Imam of al-Azhar University.
The Grand Imam is considered by most Moslems to be the highest authority in Sunni Islamic thought and Islamic jurisprudence and holds great influence on followers of the theological Ash'ari and Maturidi traditions worldwide. The Grand Imam heads the al-Azhar Mosque, and by extension al-Azhar University, and is responsible for official religious matters along with the Grand Mufti of Egypt.
First of all, the personal meeting was for me - a simple Christian pastor - a blessed experience of meeting a great man with high values and the highest academic credentials in the Middle East.
Secondly, we had sincere discussions about family values, and we agreed on fundamental aspects.
Lastly, we agreed to have further discussions, and next time my great Catholic, Orthodox and Evangelical friends in Europe - some of the most esteemed scholars, clerics, and societal leaders in the modern world - have agreed to join me upon the invitation of the Grand Imam to continue the discussions on a broader level in Cairo.
It is fair to say that my high-level friends in Europe are joyful.
Jan-Aage and Jan on the live TV broadcast on March 26th (screenshot)
Is Jan-Aage Torp becoming a Moslem?
I have my own high-level TV shows every Monday night on TV Visjon Norge, which is the largest Christian TV network in Europe.
My good friend and ministry partner, Dr. Jan Hanvold, is the President of TV Visjon Norge, He had me as a guest on his main TV show on March 26th, and among several topics we discussed was my visit to Egypt.
Everyone in Scandinavia knows that Jan Hanvold is sceptical of violent islamic terrorist organizations, because he has frequently voiced his concerns on his network channels.
Undoubtedly, a big number of TV Visjon Norge´s viewers consider any contact with Moslems at all as «forbidden».
I must admit that when I since 2018 have been involved with many Moslem leaders in Norway, Europe, and globally, I have almost gotten the shivers at the though of the anger of Christian friends and partners in Scandinavia who would easily demonize me. But I have chosen to stay true to my convictions, knowing that I am merely following the inner leading of the Holy Spirit. The Holy Spirit is the Spirit of Grace and Truth, Love & Honor.
So Jan knew very well what he was doing when he suddenly said on the live TV broadcast, looking straight into the camera at the hundreds of thousands of viewers who were watching with big eyes the conversation about my open-ended conversations with Moslem leaders in Cairo:
«Well, I know Jan-Aage Torp so well that I can say without any doubt that when Jan-Aage Torp travels in Europe, in the Middle East, or anywhere else, he is not about to become a Roman Catholic nor a Moslem nor any other expressions of religion. I know that Jan-Aage Torp and I are both firmly rooted in the evangelical faith.»
Of course, Jan Hanvold knew that he thereby was pulverizing the mounting number of Scandinavians who were attacking me and questioning my motives in social media.
So let it be said with my own lips: Becoming a Moslem, Catholic, Buddhist & any other faith expression has never even crossed my mind.
Abrahamic Faiths
My rabbinic friends within Judaism have taught me to regard with respect all three world Abrahamic faiths. In historical order: Judaism, Christianity, and Islam.
Of course, Christianity is totally different because we - I - believe that Jesus Christ is THE SON OF GOD. We - I - believe in the Triune Godhead. We - I - believe that Jesus is the only Way to God the Father.
Both Islam and Christianity are missionary religions, so we understand each other well. Perhaps that is why so many are afraid to talk to Moslems.
I say: Relax! Some of my best friends are Moslems!
Working together
On July 6th, 2018, I wrote an article on this web page: «Achieving Great Results by Working Together, based on Judeo-Christian Foundations».
I wrote that «we do not have to be in the majority to win this spiritual and moral war in the nations and institutions of Europe. Through wisdom a house is built, says Holy Scripture (Proverbs 24:3). As the spiritual leaders within Church & Society seek God, divine guidance will be received within every sphere.»
The Grand Imam of Cairo actually said to me that when we work together on family values, we have a much greater chance to win the ideological battles for the future of our families and nations.
Solid Foundations
On August 31st, 2018 I wrote another article on this web page: «Solid Foundations ensure that KKN can work with anyone!»
I wrote that «there are various religious faith movements that do not belong within classic Christianity, e.g. the Mormons and the Unification Church, and naturally historic world religions such as Hindusm, Islam, Buddhism etc.

But I respect their quest for God, their moral codes, their sincere values, and their desire to serve mankind with all their heart.

In most cases, I will gladly talk with and even cooperate with all people of faith.»
On this basis, I travelled to Cairo on March 12th, never fearful, and I was richly blessed by my meetings with my multiple new Moslem and Christian friends. I love to interact with such friends!